Mother accused of murdering toddler Liam Johnson released on bail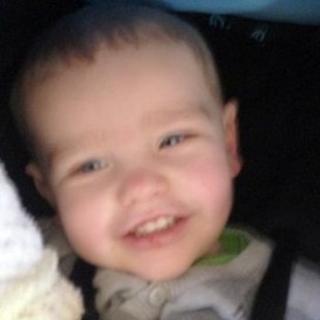 A Fife mother accused of murdering and abusing her toddler son has been freed on bail ahead of a likely trial.
Two-year-old Liam Johnson died at his family's home in Donald Crescent, Thornton, near Glenrothes on 22 March.
The cause of his death remained a mystery for months after his death - with his death certificate saying it was "unascertained".
His mother Rachael Fee, 30, and her civil partner Nyomi Fee, 27, were both bailed.
They appeared at Kirkcaldy Sheriff Court last week accused of Liam's murder as well as charges of child cruelty.
They had been expected back in court on Thursday to be fully committed for trial.
However, the Crown Office said the pair had now been bailed ahead of dates for further procedure in the case being set.
Liam lived at the rented three-bedroom flat with his mother, her partner and his two brothers, twins Matthew and JJ, aged seven.
Neighbours said they also shared the home with nine pet snakes, rats and two dogs.
Scottish SPCA officers were seen removing snakes from the house shortly after Liam's body was discovered.
The cause of his death has still not been revealed.
Appearing separately last week, both women faced a single charge of murder and two each of child cruelty in relation to Liam's death.
The child cruelty charges were brought under the Children and Young Persons (Scotland) Act 1937 and relate to causing a child unnecessary suffering or injury.
The women made no plea or declaration during the brief hearings.
Sheriff Graeme Warren continued the case for further examination and remanded both in custody at that hearing.
The pair had been expected back in court in Kirkcaldy for a second private appearance on Thursday.
However, a spokesman for the Crown Office and Procurator Fiscal Service said: "Both accused have now been bailed prior to full committal, so there will not be another appearance today.
"The case remains live with no dates set."
Liam's mother and her partner are believed to have both come from Tyneside and struck up a relationship after Rachael split up with the father of her three sons.
They moved to Scotland about two years ago and took part in a civil ceremony a year ago.
Rachael changed her name from Trelfa to take Nyomi's surname.
The boys' father, Joseph Johnson, is believed to still live in Ryton, Tyneside.