Two species recorded in East Lothian wood first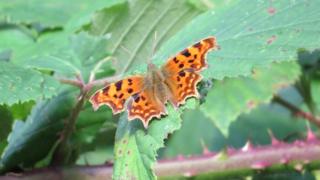 Two species of wildlife have been recorded for the first time at a wood in East Lothian.
The comma butterfly and nuthatch were recorded by the Woodland Trust Scotland at Pressmennan Wood.
Both species are uncommon in Scotland and have in recent years been extending their breeding ranges in the south, with sporadic sightings further north.
The Woodland Trust Scotland acquired Pressmennan Wood near Stenton in 1988. It has woodpeckers, otters and bats.
Formerly an extensive oak wood, it was planted with conifer trees in the middle of the 20th century.
Comma butterflies, which are orange and brown have distinctive scalloped wings and a white comma shaped mark on their undersides, became locally extinct in Scotland in the 1870s but since 2001 they have been gradually recolonising the south of the country.
The nuthatch is a small bird that looks like a woodpecker. It is a recent arrival to Scotland and although established in Southern Scotland experts said it is still a relatively rare sighting.
Gary Bolton, of the Woodland Trust, said: "Both species are gradually spreading north through Scotland and it's pleasing to discover they are making a home here.
"These kinds of sightings help to demonstrate that our management is providing the right kind of habitat for a wide range of wildlife."