Scottish SPCA appeal after cat shot with airgun in Dunfermline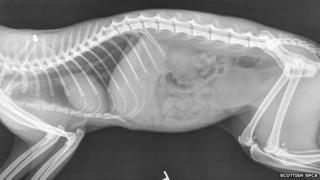 Scottish SPCA officers are investigating after a cat was shot with an airgun in Fife.
The cat, called Chubby, returned to its home at Upper Steeland Farm, Dunfermline, on Thursday, with a pellet lodged between its shoulder blades.
It later had the pellet removed by a vet.
Senior Inspector Steven Gray said the cat was lucky not to have a severe injury as the pellet narrowly missed its spine.
He said: "This was an extremely cruel act and we would advise other cat owners in the area to be vigilant.
"Anyone who thinks it is acceptable to use an airgun in this way should not be in possession of such a dangerous weapon."
He added: "We welcome the Scottish government's proposal to introduce an airgun licensing scheme as we believe this will help prevent horrific attacks like this."
Anyone with information should contact the Scottish SPCA.