After the Fringe: Keeping the shows on the road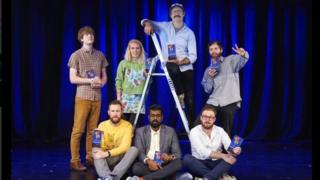 While some Fringe performers stay till the very last day, many have already returned home.
But what happens to the shows they brought to Edinburgh?
For most, the Fringe is a showcase, a chance to show their work to the world. In amongst the audiences looking for a little entertainment, you'll find talent scouts, TV producers and the directors of other festivals.
Most companies hope that the Fringe opens a door to another festival in another part of the world.
Many of the Antipodean companies - and many administrative staff attached to them - will go straight from Edinburgh to Melbourne for the start of the Australian festival season.
Others have their sights set on territory closer to home. The Gilded Balloon, which has been staging comedy shows in Edinburgh for the past 30 years, is opening a new club in the Drygate Brewery in Glasgow.
Comedians already signed up by director Karen Koren include Rob Rouse, Mark Nelson, Romesh Ranganthan and Felicity Ward, with the first shows kicking off on Friday.
Many shows use the Fringe as a place to develop shows. Actress Angie Darcy was first spotted playing Janis Joplin in a Fringe show.
Writer Peter Arnott and director Cora Bissett developed that performance into a show for A Play, A Pie and A Pint, and that in turn was developed into Janis Joplin: Full Tilt which has won a clutch of good reviews and awards at this year's Fringe.
Now with further backing from Regular Music, the show looks like being developed further and touring beyond Edinburgh.
Five stars
For Harthill's mind reader extraordinaire Colin Cloud, it's also been an eventful fringe.
His show at Just the Tonic has been packed out most nights. He's been reviewed by scores of publications including a Chinese newspaper (who gave him five stars) and had invitations to appear at a comedy festival, and another arts festival.
He's also in talks about a TV show, while already planning his show for next year's Edinburgh Fringe.
Incubator Theatre, the Jersualem-based theatre company whose run was abandoned after anti-Israeli protests outside their venue, may not have had a successful run in Edinburgh. But an alternative tour of venues in Glasgow, Leeds and London gave them the chance to make important contacts in the UK theatre industry, and after three and a half weeks, their first reviews. They're still in talks about what to do next with their hip hop opera The City.
For the team behind Now's the Hour, the Scottish Youth Theatre show about young people and their voting intentions, this is most definitely the end.
The show grew out of a year-long project, focusing on young people voting for the first time. Part of that involved young people writing letters to themselves in 20 years' time.
The last performance was on Sunday, and after a month of discussing the options, the cast now have just 24 days to decide how they'll actually vote.
Director Fraser MacLeod admits the show could be interesting to reconsider in a few months from now.
Or perhaps even in 20 years when those older, wiser young people can reconsider the letters written by their younger selves at the Edinburgh Fringe in 2014.