Edinburgh Waverley Station: Two new platforms to replace taxi ranks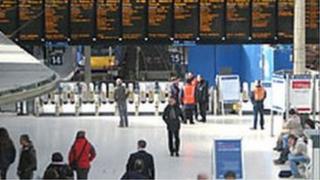 Two new platforms are to be built at Waverley Station in Edinburgh using the space left by the removal of its taxi ranks.
NetworkRail is to invest £25m in the project, which will also see other platforms lengthened to accommodate longer trains.
Work will begin in February to create more space for platforms, as well as remodelling tracks.
Existing platforms five and six will also be extended.
The platforms are not currently in public use. Platform 12 will be lengthened.
The changes are designed to cope with a projected doubling of passenger numbers through the station by 2024.
Billions of pounds
David Dickson, Network Rail route managing director for Scotland, said: "Waverley is the key station in our capital city and is a vital gateway for millions of daily commuters and visitors to Edinburgh.
"It is important that we continue to invest in the station in a way that both enables growth in the future but also supports short-term performance improvement on the network today.
"Throughout its history, Waverley has evolved to meet the changing demands of Scotland's railway.
"As well as further improving the passenger facilities within the station, this latest investment allows us to introduce much needed additional capacity and flexibility into the east of Scotland rail network and help Waverley provide improved services to passengers for years to come."
UK Transport Minister Baroness Kramer said: "This investment is further proof of the UK government's commitment to rail users in Scotland.
"We are spending billions of pounds transforming travel between Scotland and cities in England as part of the Intercity Express programme, in order to secure lasting economic growth on both sides of the border and give passengers the rail network that they deserve.
"The improvements at Waverley will help us make the most of this investment by creating capacity for our new fleet of Intercity trains, which will provide passengers with faster, more comfortable and more reliable journeys from 2018."
Scottish Transport Minister Keith Brown said: "This announcement is further evidence of Scottish government commitment to Scotland's Railways.
"We welcome the substantial operational benefits and further improvements in passenger facilities that the Edinburgh Glasgow Improvement Programme (EGIP) will bring to Waverley Station.
"Following on from the success of the recently transformed Haymarket Station, the Edinburgh Glasgow Improvement Programme (EGIP) investment in Waverley and Queen Street stations will continue to deliver across our busiest route network."