School unveils war poet Wilfred Owen plaque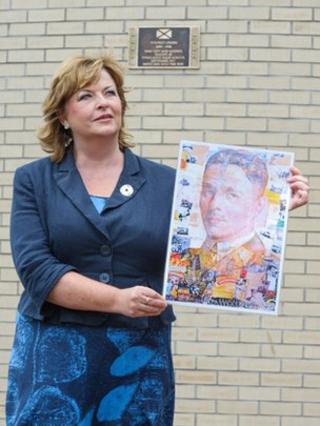 World War One poet Wilfred Owen has been honoured with a plaque at a school where he taught while recovering from shell shock during battle.
The poet, who was killed in November 1918 just days before the Armistice, taught English Literature at Tynecastle High School in Edinburgh in 1917.
It was while he was being treated for neurasthenia (shell shock) at the nearby Craiglockhart War Hospital.
He is one of 11 figures celebrated in a new Historic Scotland scheme.
Owen is regarded as one of the finest poets of World War One with famous works such as 1914, Anthem for Doomed Youth and Dulce et Decorum Est.
The commemorative plaque scheme is designed to celebrate the life and achievements of significant figures, with plaques marking their home or a particular building that is linked with their achievements.
In the case of Owen, it also forms part of the centenary events around the outbreak of the World War One.
Members of the public were asked to submit nominations which an independent panel then finalised. Those honoured include John Muir, regarded as the founder of nature conservation, and mountaineer Sir Hugh Munro.
Horrors of war
The Wilfred Owen plaque was unveiled by Culture Secretary Fiona Hyslop earlier.
She said: "In this year when we commemorate the centenary of the start of the World War One, it is natural that our focus returns to that period.
"As one of the finest poets of that era, Wilfred Owen's contribution to our understanding of the horrors of war cannot be overstated and his work is almost as relevant now as it was when it was written, nearly a century ago.
"Owen was only one man but arguably no single voice spoke for as many people as his.
"The unflinching portrayal of the visceral realities of combat contained in his poetry sent a powerful warning about the dreadful physical and mental toll of conflict, which millions of fellow soldiers must have empathised with but were unable to express with the same eloquence.
"I hope this plaque will serve as a permanent reminder for pupils who pass through these corridors in the years to come, of the sacrifice of millions of men, women and children during that conflict."
Owen's role at the school has long been known by students and local people but had never been commemorated.
Head teacher of Tynecastle High School Tom Rae said: "We're delighted at having the school's unique connection with the most widely-recognised war poet affirmed by Historic Scotland.
"Owen's link with Tynecastle is something the students are very proud of and brings something extra to lessons when his poems are studied.
"Next month, a group of staff and students will take part in a history field trip to the battlefields.
"They will be visiting Tyne Cot cemetery where each student will place a poppy on the grave of an unknown soldier of their choice and later in the week take part in the Last Post ceremony at the Menin Gate in Ypres."