Israeli show cancelled at Edinburgh Fringe goes to England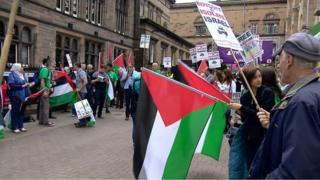 An Israeli company's show that was cancelled at the Edinburgh Fringe after protests over Gaza will begin a series of shows in London and Leeds.
Incubator Theatre was forced to abandon its run at the McEwan Hall after protests disrupted a number of shows.
Jerusalem based company Incubator Theatre staged just one performance of their hip-hop opera The City.
A protest outside over Israel's actions in Gaza disrupted not just their show, but a number of others in the venue.
Despite searching for a new venue, and one open air performance, they were unable to secure anything for their three-week run in Edinburgh.
A last minute performance in Glasgow was so busy, a second had to be added.
Later they will stage the first of three shows in London with another planned for Leeds.
They said they would still like to perform at the Fringe - but believe the festival has been compromised.