Melissa Young jailed for Christmas Day murder in Edinburgh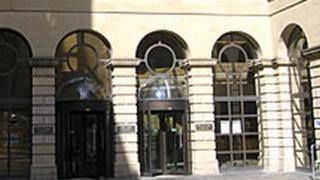 A woman who stabbed her neighbour to death in Edinburgh on Christmas Day has been jailed for life after being found guilty of murder.
Melissa Young, 37, must serve at least 20 years before she can apply for parole for killing Alan Williamson at a Glenure Loan flat on 25 December 2013.
The Crown earlier ejected her plea of guilty to culpable homicide.
Passing sentence, Judge Lord Boyd told Ms Young she had been convicted of a "cruel and wicked attack".
He said: "Having murdered him you set about trying to persuade health professionals that you were suffering from diminished responsibility.
"While it's true that you have a severe personality disorder it's clear it played no part in what happened that night.
"You showed no remorse, in fact you told this court that you were 'indifferent' to his death."
Devil Lucifer
He said it would be for the parole board to decide whether Ms Young should be released on licence. The sentence was backdated to 27 December last year when she was remanded in custody.
Before the five-day trial began Young admitted killing Mr Williamson on the grounds of "abnormality of mind" but she denied murdering him.
She claimed she saw a bright light and heard voices in her head before she "flipped" and stabbed Mr Williamson 29 times.
Young, who has a tattoo of the Virgin Mary on one arm and the Devil Lucifer on the other, said the archangel Saint Michael had taken over her body and used her as an instrument of God to punish the "unclean demon".
She attacked Mr Williamson after he rejected her Christmas present of a pair of unisex trainers and a copy of the Sun newspaper's 2014 calendar.
Young said if he had accepted the gifts from her she would not have stabbed him.
Shocked community
The jury heard that when police arrived at her flat in Clermiston, Edinburgh, Ms Young's hands were covered in blood and Mr Williamson was lying dead behind her front door.
Jim Keegan QC, defending, said in his closing speech doctors had revealed his client was liable to "violent and dangerous outbursts".
He added: "This can only have been a frenzied and savage attack. It's a very tragic case."
Det Insp Grant Johnston, of Police Scotland, said: "Melissa Young carried out a violent attack on her neighbour and the severity of the injuries inflicted led to his death.
"Officers in attendance quickly detained Young and at no time was there ever any risk to other members of the public although this incident did shock the local community
"The length of sentence handed down today reflects the violent nature of this offence."