Edinburgh Jazz & Blues Festival beats ticket sales record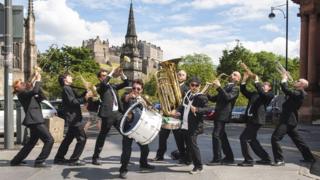 The Edinburgh Jazz & Blues Festival has achieved record box office ticket revenues with a 40% increase on 2013.
Ticket sales were up by 31,000 - a 15% increase on last year - taking box office revenue to more than £500,00 for the first time.
Attendances at free events, the Mardi Gras and Festival Carnival, are also estimated at a record-breaking 30,000.
More than 140 concerts took place in the city over 10 days.
The festival got the royal seal of approval with the Duke and Duchess of Rothesay attending a performance by pianist Stephanie Trick at the Tron Kirk.
Other performers at this year's events included Festival discovery Davina and The Vagabonds, plus Christian Scott, Conal Fowkes, Ben Prestage and The Bratislava Hot Serenaders.
Festival chairman Brian Fallon said: "This was a very successful year, packed with high quality performances, great atmosphere, and our highest audience numbers ever."