Edinburgh involvement in new virtual reality device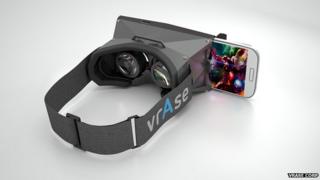 A Scottish company is involved in the creation of a virtual reality device to compete with products such as Oculus Rift and Sony's Morpheus.
Edinburgh-based Eyedak Ltd and Eyedak SL in Gran Canaria hope to have their product, vrAse, on the market later this year.
Almost three years in the making, the headset turns images on a smartphone screen into 3D visuals.
It could be worn to watch films, television and play games.
Known as augmented reality, the new way of seeing images and gaming is reported to be attracting growing interest from businesses.
Eyedak CEO Miguel Schiaffino said: "The product is a simple device that uses a smartphone as a screen to represent a 3D image."
The Gran Canaria-based firm is leading the development of the device, while the Edinburgh operation is marketing it.
Parts for vrAse headsets will be manufactured in Europe and China.
Mr Schiaffino said: "Edinburgh is really good for business. It is an important hub for business for us."
The device was to be put on sale earlier this year, but this plan was put on hold to allow for a new design of the headset.
Eyedak now hopes to have it on shelves later this year. Mr Schiaffino said they wanted it to be an affordable entry into a "new and exciting" market.
Six of the best selling makes of smartphones can be slotted into prototypes of vrAse. A universal adapter has been designed for other smartphone shapes.
Eyedak said vrAse creates 3D images by sending each eye its own information.
It added that hours of visuals could watched without eyes being strained.
Oculus Rift was the first product of Oculus VR, a Californian company founded by virtual reality enthusiast Palmer Luckey.
Earlier this year, Facebook bought the firm for about $2bn (£1.2bn).
Sony showcased its Morpheus at Los Angeles' gaming expo, E3, in June.
Samsung has a device in development called Gear VR, Microsoft is also reportedly looking at bringing out a headset while the Avegant Glyph could be released in December.
Google has produced a cheap DIY virtual reality headset made of cardboard, embedded with two lenses.
When a user places a smartphone in the front of the device, the viewer receives an immersive 3D experience, according to Google.