Schoolgirl Hannah Nolan praised after West Lothian rescue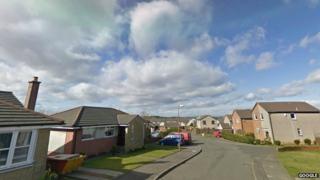 A schoolgirl has been praised for helping rescue a man who was trapped under a van in West Lothian.
Hannah Nolan, 13, came to the rescue after hearing the man shouting for help on Saturday in Glenalmond, Whitburn.
The man had been working on the vehicle when the accident happened leaving his leg trapped between the transit pick-up and a fence post.
He had been stuck for an hour before his cries for help were heard by Hannah and she called the emergency services.
She then left the injured man with the phone while she went to try and find others to help, before returning to the scene to wait for the emergency services to arrive.
The van had rolled forward down a drive and trapped his leg between the chassis of the vehicle and the fence post.
'Dramatic incident'
Firefighters used a winch to safely release the man after removing a fence slat to secure an anchor point to a lamp post.
David Lockhart, of the Scottish Fire and Rescue Service, said: "We can't praise the passing teenager enough for her actions.
"Not everyone would have the presence of mind do what she did and manage to stay calm throughout such a dramatic incident.
"She called the emergency services and helped the casualty, who was conscious throughout his ordeal, to speak to medical staff on the phone while waiting for medics to be mobilised to the scene.
"The man had been trapped for almost an hour before the teenager came along so it was very lucky she went to investigate the man's calls for help.
"Thankfully firefighters were able to release the casualty safely and swiftly before passing him into the care of the ambulance service. He was taken to St John's hospital in Livingston for treatment to his injured leg."