Floating hotel boat for Leith docks beside Royal Yacht Britannia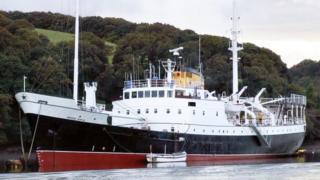 A floating hotel is to be berthed next to the Royal Yacht Britannia in Edinburgh.
The visitor attraction has bought MV Windsor Castle, a former lighthouse boat, and will spend £1m converting it into a 25-bedroom luxury hotel.
Launched in August 1963, it was the last ship built by the Blythswood Shipbuilding Company, Glasgow.
It was previously the Northern Lighthouse Board's (NLB) tender Fingal.
It was Leith registered but spent most of its NLB service working out of Oban for 30 years, followed by the last six years based in Stromness, Orkney.
Spring opening
At 239 feet long, the vessel is nearly two-thirds of the size of Britannia.
It was sold by the NLB in 2000 to Tamahine Shipping and has been berthed on the River Fal in Cornwall.
The ship is due to arrive in Leith during the week of 25 August 2014, and undergo an 18-month conversion. It is then due to open in spring 2016.
Bob Downie, Britannia's chief executive, said: "After many years of searching for the right ship, we are delighted that we have been able to acquire this iconic vessel and look forward to opening Scotland's first boatique hotel.
"As a youngster growing up in Oban I have very fond memories of seeing the Fingal and I am delighted that the long-term future of another much loved classic vessel has been secured."