March and rally held in Edinburgh over Gaza conflict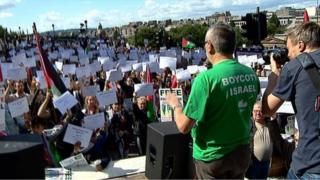 A march and rally have been held in Edinburgh in protest at Israel's military action in Gaza.
Several hundred demonstrators gathered at the Mound, then marched along Princes Street.
A theatre group from Jerusalem whose Fringe show was cancelled after a pro-Palestinian protest staged a silent performance in the city centre.
The company, which gets funding from the Israeli government, said it had been denied its freedom of expression.
The hip hop opera was the first fringe show to be cancelled because of protests. A dance performance by another Israeli group has since cancelled its shows.
More than 1,900 Palestinians, mostly civilians, and 67 Israelis have been killed since the start of the Israeli military action in Gaza.