Sea eagles successfully raise chick in Fife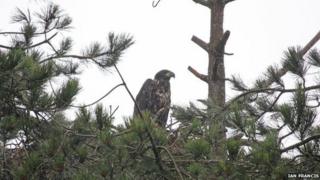 A pair of white-tailed sea eagles have successfully raised a chick in the east of the country after their first chick died last year.
The male chick, which is about 13 weeks old, has fledged in a wood in Fife.
RSPB Scotland said it hoped the young bird would avoid areas where birds of prey have been found poisoned or trapped.
The species returned to the east of Scotland following a reintroduction project between 2007 and 2012.
The country's last native white-tailed eagle was shot in Shetland in 1918.
BBC Scotland revealed earlier this year how police made searches of an estate in Aberdeenshire after the breeding pair's first chick disappeared.
However, they found no trace of the bird, which had been fitted with a satellite tag.
'Really significant'
Rhian Evans, RSPB east of Scotland sea eagle officer, told the BBC Scotland news website she would be keeping a "very close eye" on the chick's movements.
She said: "I hope this youngster makes it into the breeding population.
"It is always a concern given what happened to last year's youngster as this one may also come to grief.
"This second chick is really significant as it it means the adults we introduced are breeding on their own and starting to find their own feet, which is testament to the project."
She added that young sea eagles are nomadic for three to four years before they become territorial and stay in an area.
This is when they become mature enough to breed.
The sea eagle population on the west coast of Scotland is now well established and the birds can regularly be seen in Mull, Skye and Lochaber.