Andrew Crummy's Scottish Diaspora tapestry goes on display in Edinburgh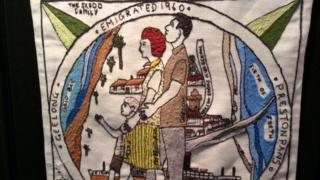 The latest in a series of huge tapestries designed by Andrew Crummy has gone on display in Edinburgh.
The Scottish Diaspora tapestry is attracting visitors to St Mary's Cathedral and follows on from the Great Tapestry of Scotland.
The brightly coloured panels reflect the stories of Scots abroad.
Organisers had been attempting to collect 150 panels. There are 200 panels on display with a further 70 to be added at a later date.