New and old talent rub shoulders at the Edinburgh Fringe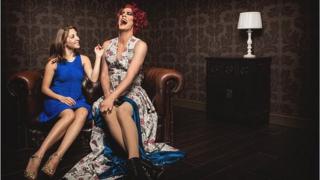 There's a six and a half foot drag queen in the ladies' bathroom. In leopard skin dress and towering platforms, he apologises but he's onstage any minute and the ladies is much closer than the gents.
We murmur our approval. He's certainly dressed for the part and it turns out he's Velma Celli, one half of the fantastic tribute show Divallusion.
Encounters like that are very common during the Edinburgh Fringe when up to 3,000 shows are performed in almost 300 venues.
Space is tight and every performer is treated equally. No room for airs and graces.
Some like actor Simon Callow have been coming here for decades. He first performed in 1973 at the Edinburgh International Festival but was soon tempted to try the unofficial festival - where anything goes as long as you're prepared to put it on.
This year he's back with his one man show Juvenalia.
"I suppose it's the city," he says.
"It's the most beautiful in Europe, possibly in the world. And the audiences are wonderful, with their slightly kind of acerbic warmth."
Pamela Stephenson also performed here in her previous job as a comedienne.
Now she's a therapist, married to Billy Connolly and producing a Brazilian dance show - Brazouka - with Arlene Phillips, who she met on Strictly Come Dancing.
"It's amazing to be here. This is a very different experience. First time I ever did standup, I did an hour and a quarter in Edinburgh. I thought this is really hard but it was a great trial by fire."
Comedian Jason Byrne agrees. He first came to the fringe in 1996 and has returned every year since.
"I do well now. We get a lot of people in but I have performed to ten people when it feels like they all just want you to stand up and hug you.
"It is a rite of passage but now I just love it. I take my time and go to shows whereas before I'd sit in my flat, worrying about my show. And it's one hour, for God's sake!"
But for most performers that hour is vital, a chance to showcase work, meet producers, network, or just have fun.
Kath Mainland is the CEO of the Fringe Society.
"It's an open access festival so we're not in charge of who comes. Anyone who wants to come, can. So themes emerge. Lots as you'd imagine about the referendum, about the start of World War One and, of course, just people having fun."
And while the opening days of the fringe may clash with the closing days of the Commonwealth Games, there's no sense that it's impacting on audiences or the box office. If anything, it's busier than normal, with shows in every quarter, and performers in the most unusual places.