Girl, 4, in Portobello Beach indecent assault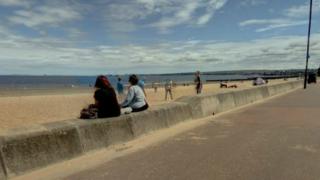 A four-year-old girl has been indecently assaulted on Portobello Beach in Edinburgh.
Police are appealing for witnesses after a man touched the child inappropriately on Saturday at 14:15.
The man has been described as in his mid to late 30s, about 6ft tall with dark hair and glasses.
He was wearing a pink or orange t-shirt, dark blue shorts and white trainers and a black bum-bag around his waist.
The girl was with her mother when the incident happened.
Det Insp Dougie Moran, of Police Scotland, said: "We are still trying to establish exactly what has happened during this incident and have been following up a number of lines of investigation since the matter was reported to us.
"We are now keen to hear from other members of the public who were on the beach at the time.
"Anyone who saw this man or who has any information relevant to our ongoing enquiries is asked to contact police immediately.
"In the meantime, we have a high-visibility presence in and around Portobello Beach to engage with the public, gather information and offer reassurance to the local community."