Israeli show cancelled following protest in Edinburgh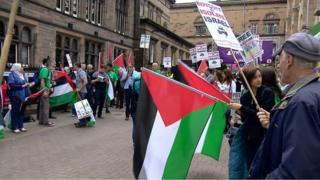 An Israeli show at the Edinburgh Fringe has been cancelled after only one performance following a protest by a pro- Palestinian group.
The City, a hip-hop opera by a theatre company from Jerusalem which receives funding from the Israeli government, was already the focus of a campaign.
Two weeks ago, 50 Scottish artists and writers signed a letter calling for the cancellation of The City.
The Underbelly venue said the protest disrupted a number of shows.
The venue said it had no option but to cancel the rest of its run in its current location.
It said it was working to find a new venue for the show which was due to run in Edinburgh until 25 August.
Reid Hall
The hip-hop opera is presented by a company that receives money from the Israeli government which campaigners said made it legitimate to boycott, particularly due to the current situation in Gaza.
The show, by Jerusalem-based company Incubator Theatre, opened on Wednesday with up to 100 members of the Scottish Palestinian solidarity campaign protesting outside.
An Underbelly spokesman said: "After discussions between Underbelly, Incubator Theatre, the University of Edinburgh and Police Scotland it was agreed that future performances of The City at the Reid Hall would be cancelled.
"Today's performance of The City went ahead as planned, but the logistics of policing and stewarding the protest around The Reid Hall - and the effect of the disturbance on Underbelly and other venues' other shows - make it untenable for the show to continue in the Cowbarn, Reid Hall.
"Underbelly and Incubator Theatre will work to identify other suitable venues for the show to perform at in Edinburgh.
"All tickets for forthcoming performances of The City in the Cowbarn, Reid Hall will be refunded.
"When an alternative venue is found, customers will be able to book tickets for that show separately."