Edinburgh's Palmerston Place reopens following chemical alert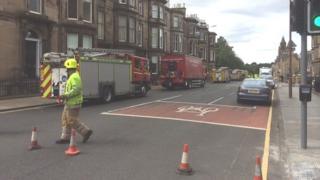 A residential street in Edinburgh has reopened following a chemical incident in a house.
Emergency services were called after a jar thought to contain potassium cyanide was found at a house in Palmerston Place just before noon.
A woman was clearing out the home of her father, who was a jeweller, when she came across the toxic chemical.
Potassium cyanide is used to clean jewellery.
At least 16 firefighters were at the scene with a detection identification unit.
The Scottish Fire and Rescue Service said it was normal procedure to close off the street until the chemical had been disposed of, and there was no danger to the public.