Swan causes water sports ban at Craiglockhart Pond in Edinburgh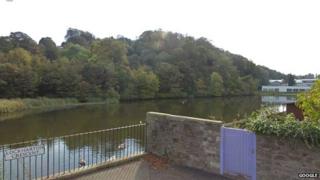 Edinburgh Leisure has been forced to cancel water sports at one of its venues because a swan has been attacking people.
Kayaking has been banned on Craiglockhart pond after the bird became aggressive while protecting its cygnets.
It is thought the cancellation of junior kayak courses has cost several thousand pounds in lost business.
The centre said health and safety was of "paramount importance".
Magnus Lyon, who leads the kayak camps at Craiglockhart Leisure and Tennis Centre, said: "Health and safety is of paramount importance at Edinburgh Leisure, and following concerns about the swan we regret we have had to make this decision to protect children.
"While we appreciate the inconvenience caused by circumstances outwith our control, we have done everything possible to provide alternatives and minimise disappointment to the kids."
Colin Seddon, Scottish SPCA wildlife centre manager, said: "This kind of behaviour is not uncommon in swans.
"In this case it appears the birds are either defending a nest site, their young or their breeding territory. They will see the kayakers as potential predators and will be trying to keep them away.
"Usually swans will only act in this manner during the breeding season, in which case the best advice would be to steer clear of the area they are defending."