Police pursue new lines of inquiry over Morningside assault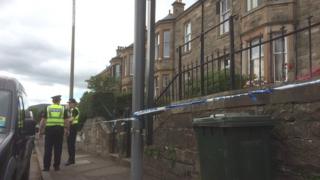 Police investigating the attempted murder of a pensioner are pursuing fresh lines of inquiry after an appeal for information.
An 85-year-old woman was stabbed and possibly sexually assaulted at her Morningside home on 11 July.
Officers have issued a description of man they want to trace in connection with the attack.
Police officers have carried out interviews in the area to try to glean more information.
Keen to trace
They spoke to passengers on buses, as well as motorists and people in the street, and carried out further door-to-door inquiries at businesses and homes.
Of the several hundred people they spoke to, they received more than a hundred with information, and a number of these responses are now being pursued as part of the inquiry.
They are keen to trace a man seen in the area around the time of the assault. He's described as between 20 and 30, with distinctive bushy eye brows.
Det Insp Martin MacLean said: "We spoke to several hundred people on Friday during our revisiting of the area around Morningside Grove.
"We received over 100 responses with information, a number of which are now being pursued as part of the enquiry."