Call to join special WW1 service at Edinburgh Castle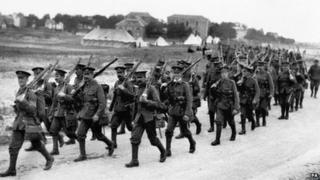 People from across Scotland are being invited to join a special service next month to mark the centenary of the outbreak of World War One.
A thousand free places are available to members of the public who do not have tickets for the Drumhead Service at Edinburgh Castle on 10 August.
The multi-faith commemoration will be held before a congregation of almost 9,000 people.
The event will replicate services held on the front line 100 years ago.
It will be followed by a parade of military bands and guards down the Royal Mile to a replica Commonwealth War Graves cemetery in Holyrood Park.
The service will mark the start of a five-year programme of commemorations in Scotland.
Eight events from World War One will be remembered, including the start and end of the conflict; major battles including Gallipoli, Loos, Jutland and Arras; and domestic incidents such as the Quintinshill rail disaster and the loss of HMY Iolaire.
'General public'
Norman Drummond, chairman of the Scottish Commemorations Panel, said: "We want to invite the whole of Scotland, people of all ages and in all corners of the country, to join us in remembering those who served during World War One, to consider the significant impact the war had on Scotland and Scots around the world and to ask the question 'What do we learn from all this?'.
"Thanks to the support of local authorities, every part of Scotland will be represented at the Drumhead Service in addition to those from the military, veterans' communities, charities and civic Scotland.
"By making a thousand places available to the general public, we can be certain that as many people as possible, from all parts of Scotland, have an opportunity to come and commemorate this important anniversary, upon which we and our children and our grandchildren may in years to come reflect that 'we were there and we remembered'."
Culture and External Affairs Secretary Fiona Hyslop said: "This will be an opportunity for those from all parts of Scotland to come together to remember more than 100,000 Scots who lost their lives during World War One, those who were left injured or disabled by the terrible conflict, and the families and communities in every city, town and village who were forced to come to terms with the terrible consequences."
Meanwhile, a late night vigil will be held at St Magnus Cathedral also to commemorate the World War One 100th anniversary.
The special service will end at 23:00 BST - the exact time Britain declared itself at war with Germany on 4 August 1914.
At that moment, the last of 52 candles will be extinguished, leaving the cathedral in virtual darkness before the Last Post is sounded.