Jawbone Arch removed from Edinburgh's Meadows for repair work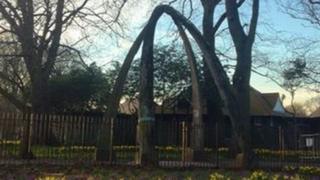 Plans have been announced to remove the Jawbone Arch from Edinburgh's Meadows before repair work is carried out.
The arch, which has stood in the park for more than 100 years, will be taken into storage later this month.
It will then be dried and assessed by experts before preservation work begins.
The area surrounding the arch will be cleared of fencing for easy pedestrian and cycle access through the Meadows in time for the Festivals season.
The cost of repair work is estimated at £49,000, with more than half being provided by the City of Edinburgh Council and Edinburgh World Heritage.
Additional support from the Marchmont and Sciennes Community Council, the Grange Association, Friends of the Meadows and Bruntsfield Links, and a range of individuals, has also been pledged.
'Former glory'
The shortfall in fundraising sits at £20,000.
The council's culture convener Richard Lewis said: "The Jawbone Arch is an iconic structure within the Meadows landscape but is in need of restoration following years of being exposed to the Edinburgh elements.
"It is fantastic that so many organisations and locals have pledged support to the project, and the removal of the monument is hopefully the first step in restoring it to its former glory."
Edinburgh's arch is one of last relics of the International Exhibition of Science and Art which took place in the Meadows in 1886.
The jawbones formed part of the stand of the Shetland and Fair Isle Knitters, and were gifted to the city after the exhibition.