Pensioner attack in Morningside treated as murder bid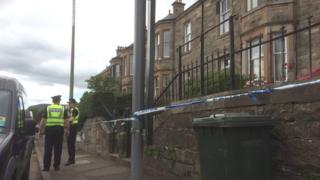 Police are treating an attack on a 85-year-old woman as attempted murder.
They said the 85-year-old was stabbed and possibly sexually assaulted in her home in the Morningside area of Edinburgh on Friday.
The woman, who was found with life-threatening injuries, is in a critical but stable condition in Edinburgh Royal infirmary.
The victim remains unconscious and police said they had not been able to speak to her.
Police have released a description of a man they want to trace in connection with the attack.
The man is described as aged 18 to 30, of average build with short dark hair. Police are appealing for anyone who can help identify the man to come forward.
Officers in the area are continuing door-to-door inquiries and CCTV footage in the area is being examined.
Woman stabbed
Det Ch Insp Keith Hardie, of Police Scotland, said the attack took place at about 15:30, after the woman's husband had left the house.
He said: "We are satisfied, from the injuries sustained by our victim, that she had been stabbed on numerous occasions. They are life-threatening injuries without a doubt.
"Her condition is described as critical but stable. She was possibly the victim of a blunt force trauma.
"She is also displaying injuries which may be consistent with some form of sexual attack."
Mr Hardie said the possibility of rape was "absolutely" being looked into as part of the inquiry.
The victim remains unconscious in Edinburgh Royal Infirmary and police said they have not been able to speak to her.
She was on her own in the house for around an hour and a half and was discovered in the living room by her husband on his return from the shops.
Her family were "shocked and traumatised" by the incident, Mr Hardie said.
He said: "In my experience within the service, I've never really heard of anything to this extent, of this nature - an attack on an elderly woman in the safety of her own house, a vicious attack, and plainly an attempt to take her life."