Inquiry hears of HGV death crash near Bathgate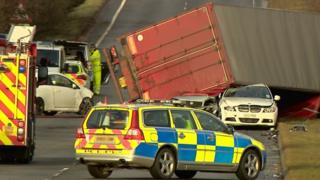 A lorry driver died when his HGV was blown over by a gust of wind, a fatal accident inquiry has heard.
The side curtains on Robert Dellow's trailer acted like a sail as winds of up to 100mph hit the A801 road near Bathgate, West Lothian in December.
The inquiry at Livingston Sheriff Court heard that Mr Dellow, 54, died from head, neck and chest wounds after his lorry toppled over, crushing two cars.
The drivers of four other cars involved in the accident escaped serious injury.
However, the end of a crash barrier pierced the lorry's cab inflicting the fatal injuries.
Mr Dellow from Lowestoft, Suffolk, - a driver with Neil Bomford Haulage - was pronounced dead at the scene on 5 December.
The inquiry heard he was not wearing a seat belt because of a previous injury.
'Atrocious' weather
West Lothian secondary school teacher Jonathan Campbell said it was "like slow motion" as the lorry toppled on to his Fiat Punto.
He said he let go of the steering wheel and threw himself across the passenger seat of his Fiat Punto as the lorry came towards him and crashed on top of his car.
He said the last thing he remembered was a crushing noise and the glass of his car windows coming in.
Road policing PC Steven Quinn said weather conditions were "atrocious" on the day of the crash.
Mr Dellow's lorry was not carrying any goods and the side-curtains were closed, which was caught by the wind.
PC Quinn said his investigation had established that industry bodies such as the Road Haulage Association recommended leaving the weatherproofing membrane open in windy conditions, but the advice was not published.
He said he believed the accident had been caused by Mr Dellow driving on an exposed road with an empty trailer in high winds with the trailer curtains closed.
PC Quinn said there was no legislation or formal guidance covering the use of trailer side curtains and, ultimately, it was the driver's responsibility.
Sheriff Susan Craig will deliver her findings at a later date.