HMS Illustrious arrives for Royal Navy ship toast in Rosyth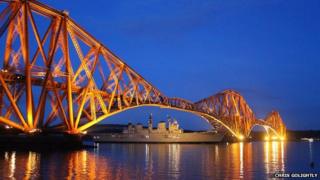 HMS Illustrious has arrived in Fife ahead of the naming ceremony of the HMS Queen Elizabeth - the Royal Navy's biggest ever ship.
HMS Illustrious sailed under the Forth Rail Bridge on Tuesday night on its way to Rosyth.
At the ceremony whisky is to replace the more traditional champagne.
The Queen will smash a bottle of Islay malt whisky, from Bowmore Distillery, against HMS Queen Elizabeth at the event on Friday.
It was the first distillery the Queen ever visited in an official capacity, the Scotland Office said.
The naming of the warship comes five years after the first metal was cut on the vessel and 33 months after the first section entered the dry dock at Rosyth for assembly.