Man finds tarantula in cupboard in Portobello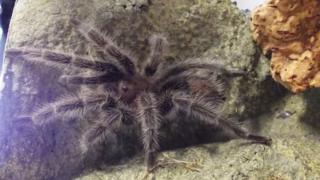 A man has found a tarantula in a cupboard in his Edinburgh home.
The Scottish SPCA is now caring for the arachnid after rescuing it from the property in Portobello.
The charity believes the creature was in good condition so may have escaped from its home and attempts are being made to trace the owner.
The spider is being cared for at the Edinburgh and Lothians Animal Rescue and Rehoming Centre in Balerno, where staff have named him Sebastian.
Weak venom
Centre manager Diane Aitchison said: "Sebastian is in good condition so I think there's a chance he's escaped from home and his owner is looking for him.
"Tarantulas are quite popular pets, although most people would probably get a fright if they came across one.
"Thankfully, the man who found Sebastian wasn't too fazed and he managed to contain him until we got there."
The tarantula was found at a property in Baileyfield Road on 22 June.
Anyone who recognises Sebastian is being urged to contact the Scottish SPCA's animal helpline.
Despite their appearance tarantulas are less fearsome than they look. They have a painful bite but their venom is weaker than that of a typical bee.