Flagstone remembering poet Elizabeth Melville unveiled in Edinburgh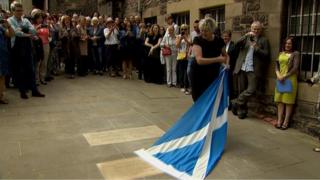 A memorial to one of Scotland's first female literary greats has been unveiled in Edinburgh by the writer and broadcaster Germaine Greer.
Poet Elizabeth Melville, Lady Culross, became the first Scots woman to see her work in print in 1603.
She was commemorated with a flagstone inscribed with two lines of her verse in Makars' Court, Lawnmarket.
Ms Greer revived interest in Melville by including her in an anthology of 17th Century women's verse.
The inscription, taken from Melville's poem Ane Godlie Dreame, reads: "Though tyrants threat, though Lyons rage and rore.
"Defy them all, and feare not to win out."
Dr Jamie Reid-Baxter, honorary research fellow at Glasgow University, said the flagstone would help redress the lack of recognition given to Scots women who had made an important contribution to culture.
He said Elizabeth Melville was remarkable for her "boldness and daring" in going into print at such a time.
"Under Reformation thinking women were allowed to have thoughts but were encouraged to keep them to themselves," he said.
"And they weren't supposed to have controversial thoughts as she did as to how a country should be governed and what the role of the Kirk should be inside a country.
"But she went ahead and published a long poem analysing that situation in 1603 and it was reprinted over and over again."