Typhoons leave RAF Leuchars for Lossiemouth base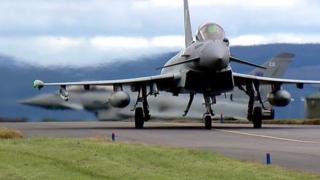 RAF Typhoon fighters based in Leuchars have arrived at their new base in Moray.
Aircraft from 6 Squadron will be based at the RAF station at Lossiemouth.
The second RAF Leuchars Typhoon squadron, 1(F) Squadron, is scheduled to transfer to their new station in the autumn.
The government announced in 2011 that the air force base would closed and then be refitted as an army facility.
A campaign was launched to try and save the station with the local council saying that if the base was closed it would have a "devastating" effect on the local economy.
However, Dr Liam Fox, who was Secretary of State for Defence at the time, said that the closure was part of an overall revaluation of the countries defence needs.
Aircraft from 6 Squadron took part in a special flyover of their new station to mark their arrival at the base.