John Dobbie guilty of 'shoogling' baby murder bid in Fife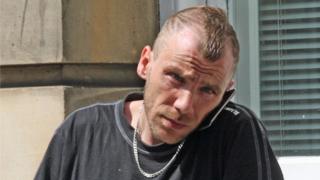 A Fife man who claimed he had been "shoogling" a crying baby has been convicted of attempted murder.
John Dobbie fractured the child's skull and left him blind and brain damaged after repeatedly shaking him and striking his head against a surface.
Dobbie, 36, had denied attempting to murder the three-month-old boy at his home in Kirkcaldy in 2011.
However, he was found guilty of the offence by a jury at the High Court in Edinburgh.
He was convicted of assaulting the baby to his severe injury, permanent impairment and to the danger of his life.
However, they acquitted him of an earlier attack on the baby, who cannot be identified for legal reasons.
The judge deferred sentence on Dobbie for background reports.
Dobbie, who has been on bail until now, was remanded in custody.
Became angry
The court heard the child now suffers from cerebral palsy affecting his whole body. He has a limited range of movement and will never be independently mobile.
He will be dependent on carers for the rest of his life.
Notes prepared by a health visitor who saw him days before the attack on the infant had described the baby as "bright and alert".
Dobbie arrived at the Victoria Hospital, in Kirkcaldy, with the child on 5 June 2011.
Receptionist Silvano Costagliola told advocate depute Douglas Fairley QC: "He told me he had him for the day."
She said she was not sure whether the child was alive or dead and added: "He actually looked like he was dead. I couldn't see him moving at all."
"I was just shocked at how the baby looked."
She said Dobbie did not know the child's date of birth and when she questioned him he got angry.
Staff nurse Jacqueline Keir told Dobbie's trial: "I initially thought the baby was dead when I first saw it just because it was so lifeless and still and the colour."
She said the baby started crying when she moved his hand. "It sounded to me like the baby was in pain."