Colin Marr death: New stab wound death reports submitted to procurator fiscal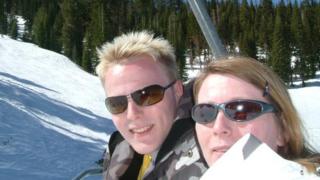 The family of a man, who died from a stab wound to the chest in Fife, has submitted two new reports challenging the police conclusion it was suicide.
Colin Marr, 23, from Lochgelly, died in July 2007 following a row with his partner.
Fife Constabulary acknowledged failings with its investigation and apologised to the family.
A new investigation concluded the case would not be the subject of criminal proceedings and it would remain open.
The new investigation also concluded the death would continue to be treated as unresolved and be subject to review should additional evidence become available at a later date.
The new reports have now been submitted to the procurator fiscal.
Strict confidence
Mr Marr's mother and stepfather, Margaret and Stuart Graham, have enlisted Tony Whittle, West Yorkshire Police former CID head, to investigate the case.
Mr Graham said: "The professional guidance and expert help from Tony Whittle has proved to be the turning point in our quest for the truth. These last few months have given us hope that we may finally uncover the exact circumstances in which our much loved, and desperately missed son died.
"The report to the Criminal Allegations against Police division highlights that the summaries Fife Police shared with experts to allow them to form an opinion as to cause of death has presented a view that has had to ignore an excess of 40 statements among other factors.
"If this is not criminal it raises very serious questions as to what can be allowed in investigating suspicious deaths in this country."
"Having looked closely at the evidence, I believe we have identified a number of key issues and that a thorough investigation of these issues will help to uncover the truth.
"On behalf of Colin's family, I would like to take this opportunity to ask anyone with any knowledge, or information about Colin's death to make contact, in strict confidence if necessary."
A Crown Office spokesman said: "I can confirm that the Crown Office and Procurator Fiscal Service has received correspondence from the family of Colin Marr.
"It is currently under consideration by the procurator fiscal."
Complaint investigation
A Police Scotland spokesman said: "Police Scotland has engaged with Mr and Mrs Graham since April 2013 and is aware of the extensive inquiries undertaken in relation to this matter.
"The failings of Fife Constabulary in relation to the initial investigation into the death of Colin have been acknowledged previously and it is clear that the initial investigation was not of the standard expected.
"This matter has also been subject to a complaint investigation whereby Fife Constabulary acknowledged failings.
"On acknowledging these failings Police Scotland also acknowledges the processes adopted since 2007 to examine the circumstances and address the concerns of Mr and Mrs Graham.
"These include the re-investigation into the death of Colin commencing in October 2008, a Fatal Accident Inquiry (2011) whereby an inconclusive outcome was reached, an independent review commissioned by Crown (2011) and a further re-investigation (2012) undertaken by a senior Detective Officer from the legacy Force of Strathclyde Police.
"In addition Fife Constabulary investigated a series of complaints made by Mr and Mrs Graham."