Edinburgh's George Street to be revamped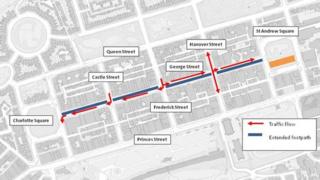 The first phase of a project aiming to improve George Street for pedestrians and cyclists will begin next week.
Work, which will last about four weeks, will begin on Monday and will make way for an increase in pedestrian space on each of the street's four blocks.
Changes are set to come into full effect after the Edinburgh Festival.
The works will also result in the introduction of a dedicated two-way cycle lane and a one-way system for general traffic and buses.
Preparations for the scheme will be phased along the length of the street from west to east, with the north side of the street being closed from Charlotte Square to Frederick Street and the south side closed between Frederick Street and St Andrew Square.
'Key thoroughfare'
The development of George Street follows on from a trial held during the festival in 2013 and aims to make the street more attractive to shoppers, residents and tourists.
Increased pedestrian space will allow for outdoor eating places, exhibitions and public art, supporting an emerging cafe culture and encouraging footfall to the city centre, while a two-way cycle route will connect the national cycle network at the east and west end of the city centre.
Lesley Hinds, Edinburgh City Council's transport and environment convener, said: "Changes to George Street will result in a more relaxing, inviting atmosphere for residents, shoppers and visitors alike, opening one of our key thoroughfares for everyone to enjoy.
"As a major UK capital, we want to display a vibrant and appealing city centre, showcasing what local businesses have on offer.
"But it's also about creating an accessible space for pedestrians and cyclists and we will continue to work with stakeholders to ensure this works in practise."