Edinburgh Festival Fringe boss 'surprised' by CBE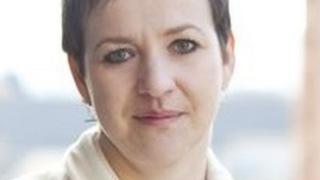 The boss of the Edinburgh Festival Fringe has said she never expected to be named in the list of people receiving Queen's Birthday Honours.
Kath Mainland said she was "genuinely surprised" when she discovered she was to receive a CBE.
Ms Mainland took over the running of the arts festival five years ago.
Earlier this month, organisers announced this year's festival would be the biggest in history, featuring more than 3,000 shows.
Ms Mainland was recognised in the birthday honours list for services to culture in Scotland.
She said: "I was genuinely surprised when they told me that I was being considered for this. It is not something that I ever expected.
"People who are honoured in this way often talk about how it is an award not just for them but for all their colleagues.
"In my case that is absolutely true. This is great recognition of the importance of the Edinburgh Festival Fringe.
"At the heart of the Fringe is the amazing range of stories that creative people from all over the world come to tell. Without them and their talents there would be no Fringe."
Ms Mainland, originally from Orkney, began her career in the arts in 1991 as an administrative assistant at the Fringe and has worked in roles around Edinburgh's festivals ever since.
She was appointed chief executive of the Edinburgh Festival Fringe Society in 2009.