Plan to demolish Gorebridge homes after carbon dioxide gas leak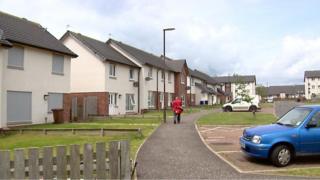 Houses built on a former Midlothian coal mine are set to be demolished after carbon dioxide was discovered seeping into the properties.
Officials are recommending all 64 homes on Gorebridge's Newbyres Crescent estate are flattened before a special gas membrane is installed at the site.
The plan is then to rebuild the development.
Councillors are due to make a decision on the recommendations at a council meeting on Tuesday.
If the proposals get the go ahead then residents in the council estate would be relocated for up to six months.
The £6m development was built eight years ago. It has been estimated that to build a new development would cost £12m.
The problem first came to light when a family had difficulty waking teenagers sleeping in one of the homes on the site last September.
A Midlothian Council spokesman said: "We are exploring a number of options, and this work will accelerate once the detail around the final choice on what work will be happening is clear."