Commonwealth Games: Forth bridge event for Queen's Baton relay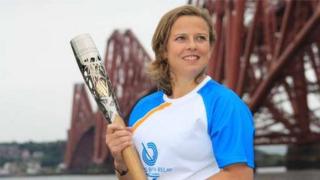 The Queen's Baton Relay started its second day in Scotland at the Forth Bridge.
Comedian Rhona Cameron carried the baton from the famous landmark, north of Edinburgh.
The Queen's baton, the Commonwealth's version of the Olympic torch, is on a 40-day tour of Scotland ahead of the Commonwealth Games in Glasgow.
The baton contains a message from the Queen, which will be read out at the opening ceremony on 23 July.
You can follow the baton relay in West Lothian live on the BBC website, with a video stream showing the baton bearers as they take part in the relay.
After travelling 118,000 miles and visiting 70 nations and territories, the baton arrived in Scotland on Saturday.
The second day of the relay saw the baton travel through West Lothian.
It was carried by members of the community in Queensferry, Broxburn, Uphall, Linlithgow and Armadale.
Whitburn, Bathgate and Livingston were also on the route.
Highlights included a trip on the canal in Linlithgow and a visit to the town's palace.
The day finished with a celebration in Livingston's Howden Park.
The Queen's baton relay route:
14 June: City of Edinburgh
15 June: West Lothian
16 June: Midlothian
17 June: East Lothian
18 June: Scottish Borders
19 June: Dumfries and Galloway
20 June: South Ayrshire
21 June: East Ayrshire
22 June: South Lanarkshire
23 June: North Lanarkshire
24 June: Falkirk
25 June: Clackmannanshire
26 June: Fife
27 June: Dundee City
28 June: Angus
29 June: Aberdeenshire
30 June: Aberdeen City
1 July: Shetland Islands
2 and 3 July: Moray
4 and 5 July: Perth & Kinross
6 and 7 July: Stirling
8 July: Eilean Siar
10 July: Orkney Islands
11 and 12 July: Highland
13 July: Argyll and Bute
14 July: Inverclyde
15 July: North Ayrshire
16 July: East Renfrewshire
17 July: Renfrewshire
18 July: West Dunbartonshire
19 July: East Dunbartonshire
20 to 23 July: Glasgow City
A comprehensive list of towns the baton will visit each day in Scotland can be found on the Glasgow 2014 website.