Edinburgh trams: 40,000 tickets sold in first weekend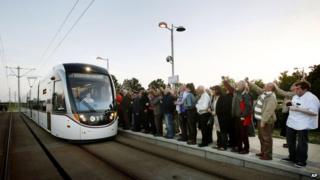 More than 40,000 tickets were sold over the opening weekend of the new tram route in Edinburgh.
Extra ticket sellers were brought in after passenger numbers exceeded expectations along the airport to city centre route, officials said.
The first tram service set off at 05:00 from the Gyle shopping centre in the west of the city.
About 25,000 tickets were bought on Saturday and 15,000 on Sunday. The Edinburgh tram route cost £776m.
The route covers 8.7 miles (14km) from the New Town to Edinburgh Airport.
The launch of the route follows six years of disruption and problems, including a bitter dispute between the council and its contractor.
Handheld ticket machines
Tom Norris, Edinburgh Trams director, said demand for tickets reached levels so high they could not be sold fast enough.
"A teething issue with two ticket machines compounded things, "he added.
"So we sent in reinforcements in the form of three extra trams and 25 staff with handheld ticket machines to get people through quicker and onto trams and away.
"This worked well and it was a great opportunity for the team to interact with our passengers and experience high demand first-hand."