BBC Crimewatch to screen appeal over Suzanne Pilley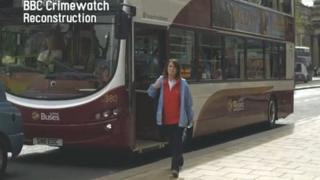 An appeal for information which could help locate the body of murdered Edinburgh woman Suzanne Pilley is to be screened on BBC Crimewatch on Monday.
The programme includes a reconstruction of her last known movements.
David Gilroy, 50, was jailed at the High Court in Edinburgh in April 2012 for murdering Ms Pilley in May 2010.
The case made legal history when Gilroy became the first convicted killer to have his sentencing filmed for British TV.
Detectives believe Gilroy killed her in the basement of the Edinburgh building in which they both worked but her body was never found.
He was sentenced to life imprisonment for murdering Ms Pilley, after she ended the affair they were having. He was ordered to serve a minimum of 18 years in jail.
Bring 'closure'
In February, he failed in an attempt to have his case reviewed.
In an interview recorded for Crimewatch, Ms Pilley's father Rob recalled the last time he saw his daughter.
He said: "I was the last one to see her. She said: 'Bye dad'. She gave me a wee peck on the cheek and that was it. That was the last we saw of her.
"You wouldn't think a workmate could actually do that in her workplace - to go back upstairs and start working again with his other colleagues and knowing Susanne was lying down in the garage."
He added: "I always say the door's just ajar - it's not fully closed yet. That's what I would really like - to put closure on it for myself and the rest of the family."
Ms Pilley's mother Sylvia told Crimewatch: "Justice has been done but it felt so sad after that because we're aren't going to get her back. Lying somewhere and nobody knows - as if nobody loved her."
Crimewatch will be broadcast on Monday at 21:00 on BBC One.