Further arrests made in Edinburgh city police operation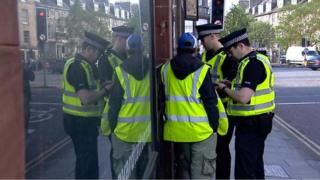 Police have made several more arrests over drugs and firearms offences as Operation Wolf continues across Edinburgh.
Officers recovered £5,000 worth of drugs, firearms and stolen property in two separate raids.
The raids were carried out on properties in the Niddrie and Lady Nairne areas of the city.
Police say the operation will continue in the city over the next week.
In one of the raids, two men and a woman were arrested after officers searched two properties in the Niddrie area of the city.
During the search £2,900 of drugs, a four figure sum of cash, mobile phones, and an illegal weapon were found.
As a result, a 55-year-old man and a 47-year-old man were arrested and charged, while a 45-year-old woman was detained and released, pending further enquiry.
At the same time, a search of a property in the Lady Nairne area of Edinburgh resulted in the recovery of drugs and suspected stolen property worth £2,500, including two bikes.
Two men, aged 39 and 42, will be reported to the Procurator Fiscal over the items.
Supt Matt Richards said: "Yesterday a total of £5,000 was recovered in drugs and suspected stolen property in the east of the city.
"This is another success for Operation Wolf, where we have demonstrated we won't tolerate criminality in the community by cracking down on those responsible in the supply of drugs."
He added: "The aim of Operation Wolf is to target the issues and concerns of residents across the city, and we will continue this approach over the next week."