'Made in Scotland' arts festival line-up announced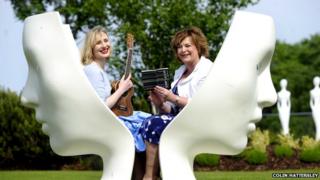 The line-up for a festival which aims to promote Scottish arts across the world has been announced.
The 'Made In Scotland' festival will highlight Scottish theatre, drama and musical performances.
About 30 artists will play at the event which takes place as part of The Edinburgh Festival Fringe in August.
The Scottish government has said it will provide £590,000 funding for the festival.
Now in its sixth year, Made in Scotland is designed to act as a showcase for Scottish creative productions, opening up opportunities for national and international tours.
Culture and External Affairs Secretary Fiona Hyslop unveiled the line-up alongside Scottish singer Louise Quinn whose band "A Band Called Quinn" will perform a stage show entitled "Bide Your Time (remix)" at this year's festival.
The minister said: "Made in Scotland's strong reach and appeal has been proven by the international success of many of the acts showcased over the last five years.
"This year's programme builds on this success and promises to deliver even more exciting, memorable and moving performances."
She added: "Through the Edinburgh Festivals Expo Fund, the Scottish government is supporting the festivals to grow their economic contribution and giving Scottish performers the opportunity to promote our country's rich culture, heritage and distinct identity on a world stage.
Online thriller
Other acts announced for this year's event include a theatre and dance show produced by Dance4 and City of the Blind, a political thriller about a UN investigator and whistleblower which will be available online in six 30-minute chapters.
Another drama, written by John McCann and directed by Orla O'Loughlin, follows Scotland's new "foreign minister" as she prepares to deliver a post-independence speech on relations with the remainder of the UK.
Kath M Mainland, chief executive of the Edinburgh Festival Fringe Society praised the line-up for its diversity and said the festival had continued to go from strength to strength over the past six years.
She said: "The Made in Scotland showcase is a crucial platform for Scottish artists at the Fringe, the world's largest arts festival and one of the most significant arts markets in the world.
"Made In Scotland goes a long way to raise the profile of these Scottish artists by allowing them to take full advantage of the unparalleled opportunity to have their work seen by promoters and presenters from around the world."
The full list of who is performing at this year's festival can be found at the Made In Scotland website.