Edinburgh trams: Councillor supports network extension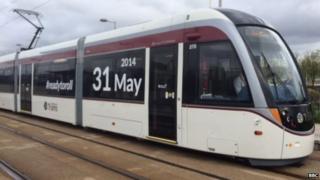 An Edinburgh councillor has said the benefits the tram network will bring to the city are so great he would support any plans for it being extended.
Edinburgh City Council has published a report highlighting the financial rewards of the network to the city.
Cllr Frank Ross said he believed the trams would bring investment and jobs.
However, he warned that lessons must be learned after Edinburgh residents faced severe disruption from the installation of the line.
The £776m network will begin taking passengers this week after running four years late and 50% over budget.
Speaking on BBC Radio Scotland, Good Morning Scotland programme, Cllr Ross, convenor of the Economy Committee, said that the report highlighted that the network would bring a large level of investment to Edinburgh which would increase jobs and modernise existing parts of the city.
He pointed to a recent upgrade of the Haymarket rail station hub and a recent announcement of an £850m redevelopment of the St James area of the city as being two examples of this.
He said: "The city will benefit on several levels, it will bring construction jobs and sustainable jobs.
"What's important, looking forward, is job creation. The level of apprenticeships which will drive from these major developments will be quite significant for the citizens of Edinburgh"
He said investment was also set to continue with land on Edinburgh Park selling for 50% higher than the asking price.
Lessons learned
The tram project has attracted heavy criticism and the initial plans were scaled back after construction costs spiralled and the development fell four years behind schedule.
However, Cllr Ross said: "I think you have to look at the project in two different stages. In the last two and a half years, since our chief executive Sue Bruce took hold of the project and renegotiated the project, it has actually run very well."
Critics of the network have said the disruption caused by the construction work isolated smaller businesses from footfall and forced several to close.
Cllr Ross argued that this was more likely to be related to the tram project starting at the same time as the UK falling into recession in 2008.
But he agreed lessons would have to be learned ahead of any potential expansion of the tram network.
He said: "The disruption to traffic and the roadworks which caused the citizens of Edinburgh difficulty moving about is something we can never allow happen again.
"The economic benefit of extending the project further, particularly into the Leith area, which is the most densely populated part of the city, stacks up."