Edinburgh tram questions answered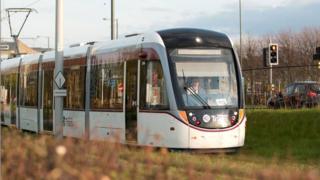 Edinburgh's new tram line begins operating on Saturday 31 May. The 14km (8.7 miles) route runs from Edinburgh Airport to York Place in the city centre, with 15 stops along the way.
1. How often does the tram run and when?
The tram services will run seven days a week, though with a reduced timetable on Sundays.
During the week, the first trams will begin from the Gyle Centre in the west of the city to York Place at 05:00, with the first trams from the airport at 06:15.
Trams will run from York Place in the city centre to the airport from 05:29.
At peak times, the trams will runs every 8-10 minutes and about every 10 minutes at other times.
The latest trams to travel the full end-to-end route leave from Edinburgh airport at 22:45 and from York Place at 23:08.
2. How do I buy a ticket and how much will it cost?
Tickets are available from ticket vending machines at all tram stops.
Tickets are also available from Transport for Edinburgh Travelshops, by Mobile App, online or from Lothian Bus Drivers (although not all ticket types).
The tram route is divided into two zones for pricing purposes.
The airport zone includes travel to and from the airport only. All stops from Ingliston Park and Ride through to York Place fall within the city zone.
They cost £1.50 for a single in the city zone, £5 for a single for the airport zone and £3.50 for an adult day ticket in the city zone.
An adult return in the airport zone is £8 and a day ticket in the airport zone is £9.
2. Can OAPS use their bus pass on the tram?
Pensioners can use their concessionary travel card (Scottish National Entitlement Cards) on the tram, as long as it has been issued by Edinburgh City Council.
Passengers who live outside Edinburgh will not be able to use their OAP bus pass on the tram.
Blind or visually-impaired people and a companion living in Edinburgh will be able to travel using their bus pass.
3. Is there pram and bike access on the tram?
Pushchairs can use wheelchair spaces if no wheelchairs are on the tram.
There is also room in the standing areas of the tram for pushchairs, though no specific designated area.
Bikes are not allowed on the trams, unless they are folding bicycles which are folded and enclosed in a bag.
However there will be a trial allowing bikes on during off-peak times after the first six months of service.
There are two dedicated wheelchair spaces on each tram.
Small animals are carried at the driver or revenue protection officer's discretion.
Guide dogs, assistance dogs and learning dogs will be carried if there is room on the tram.
All dogs must be on a lead and all other animals must be secured in a suitable cage or carrying case.
4. Is the tram faster or slower than the airport bus?
It takes about 30 minutes for the bus to travel from Edinburgh Airport to Waverley Bridge, depending on the time of day.
It takes 35 minutes for the tram to travel from Edinburgh Airport to the city centre.
5. How many passengers can the tram carry and is there luggage/storage space for passengers travelling from the airport with suitcases?
Tram vehicles can take 250 passengers - 78 seated, 170 standing and 2 dedicated wheelchair spaces.
There is luggage space on the trams.
6. Is there a wheelchair step? Can I take my wheelchair/mobility scooter on board? How many are allowed?
As the tram vehicles are level with the tram stop, the access to the tram is far easier for pushchair users than it is on a bus.
Mobility scooters are not allowed on the trams.
Tram vehicles have two dedicated wheelchair spaces.
7. Is there a fine if you are caught without a ticket?
Yes, if you are caught without a ticket the fine is £10.
8. Can you buy a monthly travel pass for the tram?
The Ridacard, also for use on Lothian Buses, can be purchased for £51 for 4 weeks, £40 for students and £29 for children.
Weekly and annual cards also available.
9. What happens if a car is parked on the tram line?
Vehicles parked on the tram route will be issued with a parking ticket and, if necessary, removed.
Vehicle owners can incur a £180 charge to recover their vehicle if the car is removed.
10. What happens if a tram breaks down?
Broken down trams can be towed by another tram to the Gogar depot or to a stabling area such as Haymarket Yards.
If this is not possible Edinburgh Trams has a special towing vehicle named the Unimog which can tow a tram.