Jazz singer Craig McMurdo guilty of 'sexting' girl, 13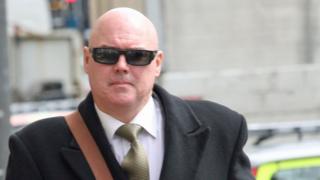 A Midlothian jazz singer has been found guilty of "sexting" a 13-year-old girl and possessing child abuse images.
Craig McMurdo, 49, sent the teenager explicit text messages containing naked images of himself and other men between December 2011 and August 2012.
McMurdo had denied committing any crimes and had claimed he thought his young victim was a "very physically mature looking" woman of 19.
A jury convicted him on four charges of child abuse.
He was also convicted of possessing indecent images of children, following an eight-day trial.
BBC Radio
Edinburgh Sheriff Court heard that McMurdo forced his victim to send him photographs of herself performing a sex act.
McMurdo, who has performed for Prince Charles and Hollywood actor Paul Newman, was caught after the girl's mother discovered what was happening.
The mother contacted police who arrested the former BBC radio show host at his home in Midlothian.
Detectives then discovered he was storing a number of child abuse images on computers he owned.
McMurdo told a jury he did not download indecent images and that somebody who had access to his computers must have downloaded the material.
Sheriff Gordon Liddle deferred sentence on McMurdo until next month so the court can obtain reports about his character.
Dating website
He said: "It is very likely and it is an almost inevitable result of the verdict that this will result in a custodial order.
"You may very well want to spend your time between now and sentencing putting your affairs in order."
McMurdo initially made contact with the teenager through a dating website called R U interested.
He then started exchanging messages with her through Facebook and their mobile phones.
He told his lawyer that the girl was a willing participant in the communications and had also sent him sexually explicit messages.
He added: "She was a very well developed girl, a very physically mature girl. It was a fantasy cyber encounter. It was sexting."
He also told the court that if he had known she was 13, he would not have been in contact with her.
Mr Keenan asked for his client to be granted bail in advance of next month's sentencing hearing.
Sheriff Liddle agreed and told him that he would also be placed on the Sex Offenders Register.
McMurdo will be sentenced at Edinburgh Sheriff Court on 19 June.