Qatar flight service between Edinburgh and Doha 'worth £86m'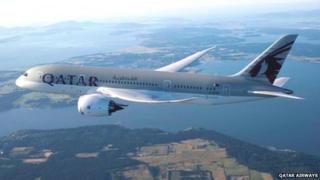 A new flight between Edinburgh and Qatar will be worth more than £80m to the economy over the next three years, according to a tourism body.
The Qatar Airways flight to Doha will run five days a week from 28 May.
VisitScotland said it will bring in about £33m in projected revenue in the first year and £86m after three years.
It is one of six new direct routes starting this month connecting Scotland to Philadelphia, Chicago, Zurich, Verona and the Dominican Republic.
The flights have been highlighted as VisitScotland attempts to attract more visitors and businesses to set up links at the IMEX tourism trade show in Frankfurt.
Major investments
The conference sees businesses from the tourism industry meet airlines and travel companies, and VisitScotland hopes events such as the Commonwealth Games and the Ryder Cup can lead to further opportunities.
VisitScotland's delegation includes a number of hotels, conference centres and marketing groups.
Neil Brownlee, head of the business tourism at VisitScotland, said: "Scotland is excelling in business tourism, evidenced by the wealth of major investments happening throughout the country including accommodation, venues and major new flight routes.
"We are looking forward to communicating the importance of doing business in Scotland to over 9,000 buyers at the event.
"With the Commonwealth Games, Ryder Cup and over 800 Homecoming events, 2014 is set to be a massive year for Scotland and this delivers great opportunities for not only business tourism, but for the whole of the Scottish economy.
"It's imperative we make the most of this once-in-a-generation opportunity and this year's IMEX is the perfect place to do just that."