New Zurich air service takes off from Edinburgh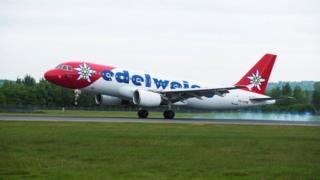 A new airline service between Edinburgh and Switzerland has carried its first passengers.
The Zurich service will run twice a week during the summer season on Mondays and Fridays.
The flights by Edelweiss, the sister carrier of Swiss International Air Lines, carry more than 150 people.
Edelweiss chief executive Karl Kistler, who piloted Friday's inaugural flight, said: "We are very excited to add Edinburgh to our network.
Mr Kistler said: "Our two weekly flights throughout the summer season from May till October will carry approximately 8,000 passengers to Scotland and will have a significant impact on incoming tourism from Switzerland and other connecting markets."
Gordon Dewar, Edinburgh Airport chief executive, said: "Zurich represents an important business link and this new route will offer passengers even more choice of how they travel.
"Switzerland is also a popular tourist destination and we're delighted to be working with Edelweiss to offer Scottish passengers the chance to visit this beautiful country."
In 2013, Swiss tourists in Scotland spent a total of £31m and the average length of stay was almost six days, according to VisitScotland.