Derek Riordan fined £430 for Edinburgh pub assault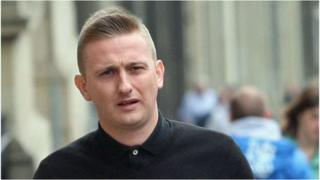 Footballer Derek Riordan has been fined £430 for assaulting a man who bumped into him in an Edinburgh pub.
The 31-year-old, from Edinburgh, pled guilty to striking Damian Holahan on the head to his injury in Malones Irish Bar, in Forrest Road, in February 2013.
The city's Justice of the Peace Court heard Riordan had been on a night out and his recollections were "vague".
Riordan, who is without a club, played for spells with Hibs and Celtic and was capped for Scotland.
His defence solicitor, Kathleen More, told Justice Julia Toch that her client was "a man of great talent on the football field".
Riordan, she said, had been enjoying a night out with his brother and had consumed some alcohol. "His recollection of the events is a bit vague" she added.
Riordan and Mr Holahan had accidentally banged into each other on the crowded dance floor, she said.
Ms More said: "Mr Riordan misjudged the situation and struck the complainer on the face. He regrets it very much indeed."
Justice Toch fined Riordan £430, reduced from £480 because of the guilty plea. He has until 10 July to pay the full amount.