Three guilty of Mohammed Abdi machine gun murder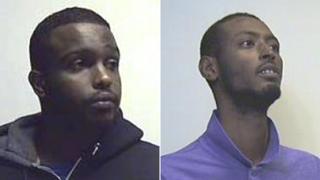 Three men have admitted murdering a 25-year-old man with a sub-machine gun in an Edinburgh suburb.
Mohamud Mohamud, 30, Cadil Huseen, 23, and Hussein Ali, 26, pleaded guilty to killing Mohammed Abdi in the Duddingston area on 26 May last year.
Mr Adbi was gunned down in what is understood to have been a feud over drugs and he died from a gunshot wound to the chest.
All three men are now facing life sentences for murder.
Judge Lord Turnbull said: "This is a level of criminality seldom seen in our country and mercifully so."
Lord Turnbull said that he would have to call for background reports before determining how long the three would spend in jail before being eligible for parole.
Drug dealing
The court heard that the three men and their victim had been friendly, but there was a falling out over the tenancy of a flat and Husseen was blamed for this.
Things escalated just days before the murder when Huseen's flat in Gilmerton, Edinburgh, and the flat of Ali, Edinburgh, were vandalised.
On the night of the killing witnesses spoke of hearing cars chasing each other, a VW Sharan crashing into the fence of a nearby tennis court and then the sound of gunfire.
One man described it as a "rat-a-tat" sound and the noise was heard in the background of one of the many 999 calls made to the police.
Another witness, taxi driver Mohammed Irfan, 34, from Edinburgh, said: "I never thought it would be happening here. It was like something you hear in the movies - I couldn't believe it would be shots. I heard three loud bangs, which I found out the next day were shots."
A forensic expert told the court that at least five shots were fired from a converted replica machine gun. Another bullet was fired from a converted revolver found in the VW Sharan, but the bullet which killed Mr Abdi came from the machine gun.
Jade Davren, who was a friend of both Huseen and Ali told the court she became suspicious they were involved in drug dealing.
She agreed that she had heard that Huseen and his friends were making £15,000 a week from drug dealing.
Det Ch Supt Gary Flannigan, of the Specialist Crime Division, said the investigation which took place into the murder had used telephone records, CCTV footage, forensic science and eye-witness testimony to trace those suspected of the crime.
He said: "The investigation was large-scale and complex - this was a fatal shooting on the streets of the capital city, something which is thankfully a very rare event but which resulted in one man being murdered.
"The span of our investigation crossed the UK - from Willowbrae to London - and abroad in terms of our search for those responsible and significant witnesses and involved a number of other agencies including the National Crime Agency."
He added: "Using a combination of highly technical methods, surveillance and eye witness accounts, the investigation established the identities of those involved, their movements and their intentions."
Co-accused Ahmed Ahmed, 28, Liban Ahmed, 30, Said Fadal, 32, and Said Tarabi, 27, had their pleas of not guilty accepted by the advocate depute Iain McSporran, prosecuting.
All seven had been on trial at the High Court in Glasgow for almost four weeks.