Man denies killing former RAF pilot Steven Barrett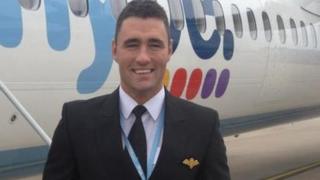 A man accused of murdering his former RAF pilot partner in a knife attack has told a court that he "would have no reason to do such a thing".
Darren McLauchlan, 24, said he found Steven Barrett seriously injured in a bedroom in their Edinburgh flat.
He told the High Court in Edinburgh that he called an ambulance and then applied pressure on Mr Barrett's wounds until paramedics arrived.
Mr McLauchlan denies murdering Mr Barrett by stabbing him on the body.
He also denies a further charge of attempting to pervert the course of justice.
The incident is alleged to have happened on 6 April last year, after the couple returned to their flat in Lochend Butterfly Way following a night out with their friend Shannon Nisbet.
Mr McLauchlan told the court that he found 27-year-old Mr Barrett beside the bed, apparently trying to get up from a "sort of kneeling position".
He said Mr Barrett told him to get out of the room.
Mr McLauchlan said he had started shouting "What have you done?" at Mr Barrett after spotting a knife in the room.
He then said he called an ambulance and used a towel to wrap around and apply pressure to Mr Barrett's wounds.
He said he knew there were a number of issues in Mr Barrett's life, including telling his parents that he was gay and redundancy fears at the airline Flybe, where he worked after leaving the RAF.
The trial before judge Michael O'Grady QC continues.