Edinburgh city operation nets more drugs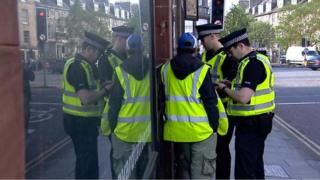 Police have seized £103,000 worth of cannabis as Operation Wolf continues across Edinburgh.
Officers found dried buds worth £83,320 and mature plants valued at £19,500 at a property in the Gorgie Road area of the capital.
Inquiries are ongoing to establish the person responsible.
Further days of action will take place across the city throughout May. Police Scotland have appealed for people to report any "community matters".
PC Kris Harvey, of Police Scotland, said: "This is a fantastic result for Operation Wolf, and this sizeable find will have a knock-on effect on organised crime.
"Operation Wolf continues to address the issues that are of concern to our communities in Edinburgh and there will be continuing enforcement."