Report into Guthrie Court Care Home urges improvement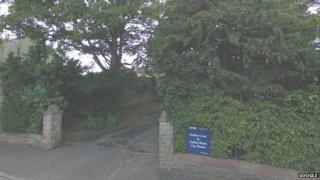 An Edinburgh care home must improve the quality of care to residents after serious concerns were raised by inspectors, a watchdog has warned.
An unannounced inspection at Guthrie Court Care Home found previous requirements for improvement, including staff supervision, had not been met.
The home was graded as "weak" and "unsatisfactory" in all areas.
Four Seasons Health Care said it had made "comprehensive changes" at the home as a result of the report.
After visiting the home in March, inspectors said they did not find any "significant improvement" in the quality of care for residents or the environment since their earlier visit in October last year.
After the first visit, 10 requirements were made but only three had been fully met at the home, which provides nursing and residential care for older people.
Privacy and dignity
Some positive interactions between staff and residents were noted and a new temporary manager had been appointed one week before the inspection, the Care Inspectorate report said.
But inspectors continued to have "concerns" about the environment, personal plans, privacy and dignity, and infection control as well as staff training and supervision at the home, which is in the Liberton area of the city.
A Care Inspectorate spokesman said: "We identified serious concerns about this care home last year but the provider, Four Seasons Health Care, has not yet made the improvements we require.
"During this inspection we examined the same care plans as at the last inspection but found no improvements.
"It is of serious concern that despite these issues being raised previously, no action had been taken to implement the required improvement, leaving residents at preventable risk."
Fluid intake
The spokesman said that residents' daily fluid intake was not being properly recorded or reviewed, and staff did not interact with residents at meal times.
"Throughout the inspection we saw evidence of a clear lack of oversight of practice and management and leadership," The spokesman added.
"Quality assurance systems were weak and had little impact on ensuring the provision of good quality care for residents.
"We are working closely with the local authority and health colleagues to support improvement but will not hesitate to take further action if improvement is not made and sustained quickly."
Comprehensive changes
Four Seasons Health Care said it had accepted the report and had made a number of changes, including employing a new manager to try to bring the care home up to an acceptable standard.
A spokesman said: "We regret that the care at Guthrie Court fell below the standard that we expect to provide.
"We have accepted the Care Inspectorate requirements and recommendations and we have been working hard to implement a comprehensive improvement plan.
"We have brought in an experienced and successful home manager to oversee implementation of the improvement plan until a new permanent manager takes up post later this month, when he will be supported by the current acting manager during an extended hand-over period to ensure continuity of the improvement programme."
The spokesman added: "Staffing has been improved by recruitment of more permanent staff, so reducing reliance on agency staff. We also intend to upgrade the home."