Senior official Mark Turley suspended from Edinburgh City Council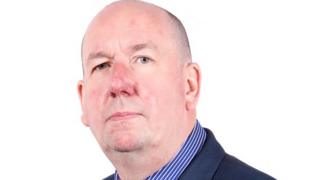 A senior official at the helm of a council department involved in the Mortonhall baby ashes scandal has been suspended.
Mark Turley, Edinburgh City Council's director of services for communities, has been suspended on full pay.
His department governs Mortonhall Crematorium, which has been condemned for burying baby ashes in secret.
Former lord advocate Dame Elish Angiolini published a report into the scandal last week.
Her report found that hundreds of parents affected by the scandal had not been told that ashes were left after cremations because staff believed it was "too distressing" for them.
She said it was not known for sure what remains of which babies were interred in an unmarked "garden of remembrance" at Mortonhall.
Council buildings
Dame Elish described the practice at the crematorium as a "great tragedy" that left some parents facing a "lifetime of uncertainty" over where their babies had been laid to rest.
Mr Turley's department is also responsible for the maintenance of council buildings, including schools.
Last month 12-year-old pupil Keane Wallace-Bennett died when a wall fell on her at Liberton High School.
There were claims the "modesty wall" in the gym block had been "wobbly" for some time.
An investigation into Keane's death is still being carried out by the Health and Safety Executive and Police Scotland.
An Edinburgh City Council spokeswoman said: "The council's director of services of communities, Mark Turley, has been suspended on full pay pending an internal investigation."